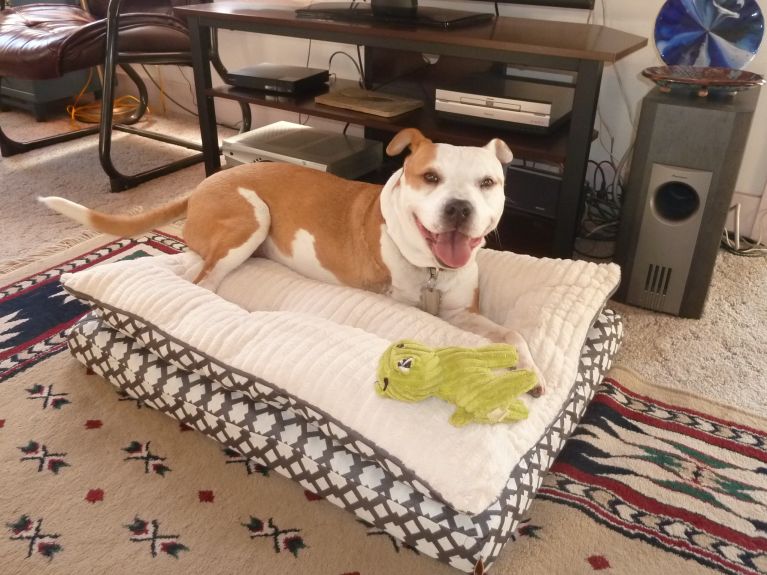 Three years ago today–Sept. 22–Phoenix had her right front leg amputated. Her continued joyful tag-wagging & face-licking are reminders, throughout each day, that Phoenix loves hopping through life on 3 legs much better than limping painfully on 4 legs.
We are grateful for, and mindful of, Ralph & Mya's heroic rescue of Phoenix after she was hit by 3 different cars on Labor Day weekend, 2014. They drove her 5+ hours north to Miranda's Rescue about 25 miles south of Eureka. If it were not for Ralph & Mya, and Shannon Miranda & crew, we would not have met this wonderful dog and had the opportunity to welcome Phoenix into our family.
Speaking of family, three weeks ago we had to euthanize our 14+ year-old beagle Chloe. Cancer, respiratory problems and–during her final day–multiple grand mal seizures, took their toll. Chloe went to sleep peacefully, held by my wife & I, in our vet's office. Thus began her trip over the Rainbow Bridge to join our other dogs waiting for her. Sadly, at first Phoenix hopped around looking everywhere for Chloe, even looking inside a car in the garage. But as the days have passed, our beloved tripawd girl Phoenix (now probably about 8 years old) has adapted to being the only dog and  getting plenty of attention.